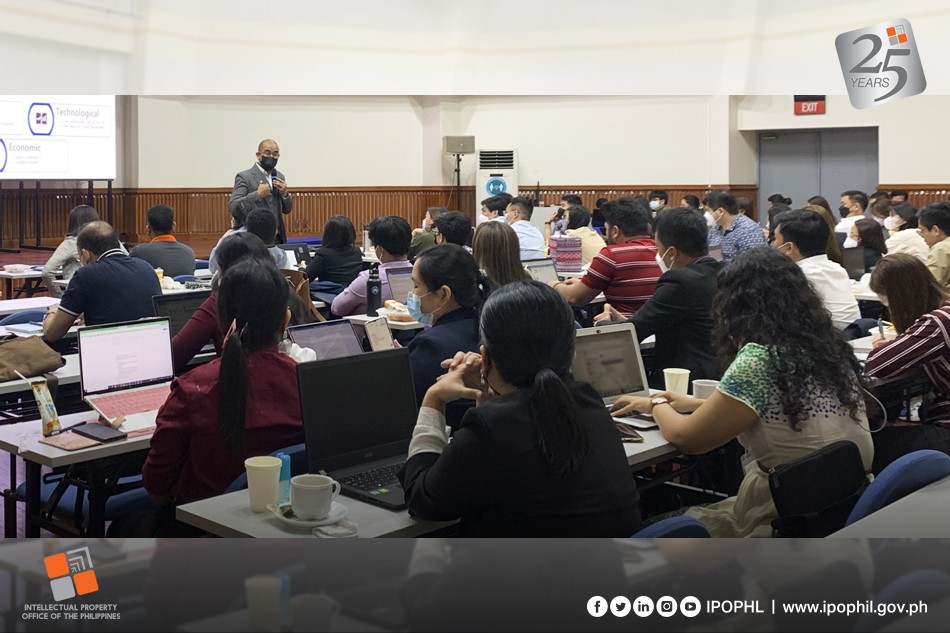 WIPO-IPOPHL Summer School inspires six mini research papers by over 100 participants
WIPO-IPOPHL Summer School inspires six mini research papers by over 100 participants
September 27, 2022
The recent 2022 Summer School, jointly held by the World Intellectual Property Organization (WIPO) and the Intellectual Property Office of the Philippines (IPOPHL), has produced six intellectual property (IP) research papers that were developed by participants for a more immersive learning experience.
The research papers peered through the Philippine IP regime to find out how Filipinos can benefit from the IP system in the backdrop of various contexts including the Fourth Industrial Revolution, globalization and the COVID-19 pandemic.
But among these, two papers emerged and caught the attention of IP expert-panelists. These were titled "IP and the Global Competitiveness of Micro, Small, and Medium Enterprises: Filipinos Going Global" and "Coping with the Speedy Digital Sphere: E-Commerce and Philippine IP."
The first paper tackled local MSMEs' current challenges and the efforts of IPOPHL and other government agencies to help the sector protect and commercialize their IP assets.
"By adopting a solid intellectual property strategy in the mix, MSMEs can leverage on product or service differentiation, establish customer loyalty by focusing on an appropriate market segment or niche and a unique value proposition," the paper concluded.
The second paper, meanwhile, looked into the legal and technological impediments to IP enforcement in the digital age.
"A preventative approach to IP Enforcement by way of education may be the more realizable simple approach. There is a need to intensify and at the same time normalize the education of consumers, enterprises, and government entities on IP, not only on their respective rights to protect IP as their possible source of income but on respecting the rights of others as well," the paper read.
Several participants expressed interest to further polish their papers for submission to the Asia Pacific Journal on IP Management and Innovation — a joint research journal of IPOPHL and the De La Salle University that publishes peer-reviewed research on IP management and innovation.
The Summer School is a world-renowned program of the WIPO Academy to provide professionals with a deeper understanding of IP and help them keep abreast with the latest legal, technological and business developments that are shaping the IP landscapes.
The lecture-series held annually by IPOPHL aims to elaborate on IP's benefits as a tool for sustainable socio-cultural and economic development among emerging economies.
"Through programs like today's IP Summer School—the only IP Summer School in Southeast Asia—we can build resilience in a tech and knowledge economy-driven future by enabling our people to maximize the benefits of their IP rights. As such, IPOPHL and WIPO have been working to educate people on how IP can be fully utilized to promote innovation to our country's advantage," IPOPHL Director General Rowel S. Barba said at the program's opening last September 5.
This year's Summer School saw the participation of over 100 students, lawyers, economists, professors, researchers, innovators and business leaders who aim to either pave or fortify their career pathways toward the growing opportunities in IP.
Below are some positive feedback from a few participants of the 2022 WIPO-IPOPHL Summer School:
"The simulation exercise and case study discussions reinforced the lecture classes, and the hybrid setup of the training is commendable." – Michael Francis Benjamin, Professor and Assistant Manager, TOMASInno Center TBI, University of Santo Tomas
"The Summer School 2022 was well-organized. Facilitators were helpful and approachable. This rare opportunity helped me hone my skills in intellectual property management. Trainings like this contributed much to our University's vision of becoming a University of Innovation. This will help in our ranking for state universities and college levelling." – Venson Sarita, Head, IP and Technology Business Management Office of the Davao Oriental State University
"The Summer School was overall worth the time, money, and effort I put into it. It was an honor to to learn from the best IP practitioners in the country, and to interact with other professionals hungry for IP knowledge like myself." – Mark Nico Acabado, Special Project Research Officer/ Legal Consultant, Civil Aviation Authority of the Philippines
"I am grateful to have participated in this Summer School as it opened for me many frontiers for collaboration with the people I met at the School. In terms of learning, I was thrilled to get useful insights into several contemporary aspects of IP rights… No knowledge is ever wasted and I believe I will be able to take away many key pointers from each of the speakers that will help my research and education work in India." – Hetvi Trivedi, Independent Legal Consultant/ Educator/ Researcher from India
"In our work at the National Innovation Council Secretariat, the learnings from the Summer School will definitely help us take into consideration the importance of IP as we develop innovation policies, strategies, and programs that will support the innovation efforts and initiatives in the Country."– Cheska Espino, Senior Economic Development Specialist, National Economic Development Authority
"The WIPO-IPOPHL Summer School on Intellectual Property provides a space for developing one's familiarity with all kinds of IPs and the various stakeholders that ensure the monitoring, management, and growth of IP in the country. This body of knowledge is helpful in understanding the impact of having protected IPs in framing effective business strategies that can assist in growth development, regardless of what industry you belong to." – Carla Mae Leonor, CEO, Bughaw Creative Collective
"The programs reminds the participants in so many ways about the actual challenges of our country and world… We have to stay committed to the task of promoting intellectual property rights for the greater good of and order in the society." – Armon Tolentino, Legal Counsel, Union Bank of the Philippines