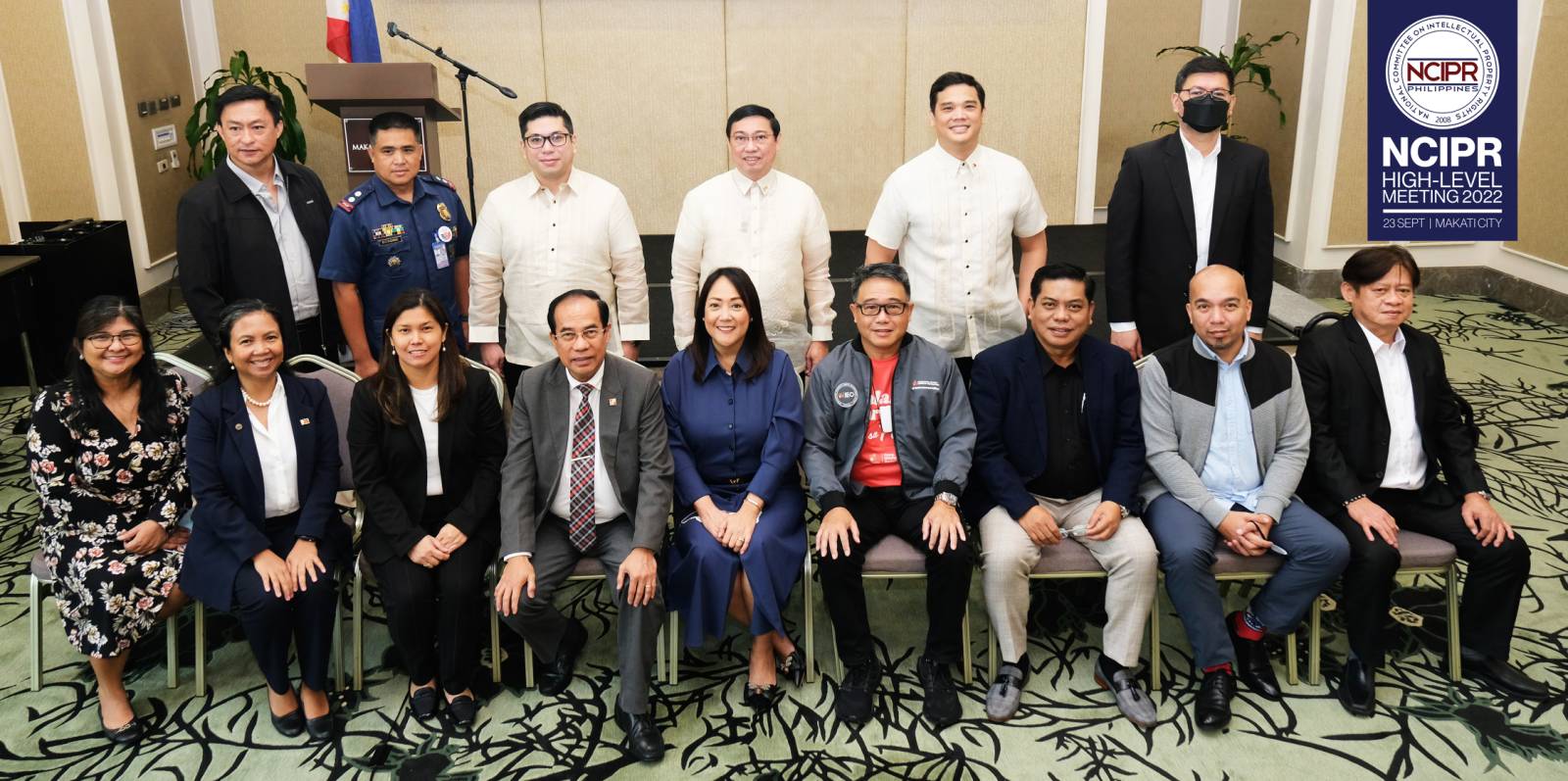 NCIPR leadership calls on members to seek budget vs. counterfeiting, piracy
NCIPR leadership calls on members to seek budget vs. counterfeiting, piracy
September 29, 2022
The National Committee on Intellectual Property Rights (NCIPR) met last week to deliberate on plans and strategies in fulfilling President Ferdinand Marcos, Jr.'s directive on safeguarding the intellectual property (IP) rights of the Philippine creative sector.
It could be recalled that President Marcos, Jr., reiterated in his 1st State of the Nation Address the need to accelerate the recovery of Philippine artists by addressing IP challenges among other barriers to growth.
As such, the Intellectual Property Office of the Philippines (IPOPHL) — which currently leads the NCIPR as acting chair — enjoined all member-agencies to fully comply with Executive Order 736 which created the body, particularly in allocating sufficient funds to duly perform its functions, such as raising IP awareness, providing IP policy support and strengthening the country's IP enforcement regime.
Under Section 2 of said order, NCIPR member-agencies are mandated to "establish and institutionalize a permanent IP unit with adequate personnel and budget allocation."
"This objective of the order has yet to be fully realized since its creation in 2008 as some members have not obtained such funds," NCIPR Vice-Chair and IPOPHL Deputy Director General Teodoro C. Pascua said.
"For any government agency, it is understandably challenging to obtain new funds for new endeavors but with the urgent directive of President Marcos Jr. to support our creatives, we could no longer afford any delay. The NCIPR will work in the next few months to secure a budget to intensify our anti-counterfeiting and anti-piracy (ACAP) efforts and explore other funding mechanisms to achieve this goal," Pascua added.
Beyond this challenge, the NCIPR reported laudable gains in implementing its 2021-2025 ACAP Strategy Roadmap.
Among them is the addition of two more critical NCIPR members, namely the Bureau of Internal Revenue (BIR) and Bureau of Immigration (BI); the development of the IP Case Tracking System; and completion of the draft Manual on the Destruction and Disposal of Counterfeit Goods that will ensure an environmentally sustainable way of discarding counterfeit products.
The NCIPR has also been conducting ACAP campaigns across the country and created a Technical Working Group to resolve problems with the Greenhills Shopping Center, the lone Philippine market that Washington flagged for its notoriety for counterfeit trade.
The NCIPR also recorded in 2021 a record haul of counterfeit goods cumulatively valued at P24.9 billion.
"With our member-agencies' consistent collaboration and actions that remain true to the values of the NCIPR, today's High Level Meeting will help us begin our work on a high note and align our efforts in promoting, protecting and enforcing the IP rights in the country. This is imperative as IP is a key strategic component not only in the recovery of our creative sector but in pushing the Philippines to become more globally competitive," NCIPR Acting Chair and IPOPHL Director General Rowel S. Barba said.
Aside from IPOPHL, BIR and BI, the NCIPR is also composed of the Bureau of Customs, Department of Information and Communications Technology, Department of Interior and Local Government, Department of Justice, Food and Drug Administration, National Book Development Board, National Bureau of Investigation, National Telecommunications Commission, Office of the Special Envoy on Transnational Crime, Optical Media Board and Philippine National Police. (PCBPA) Philippines China Brand Promotion Association