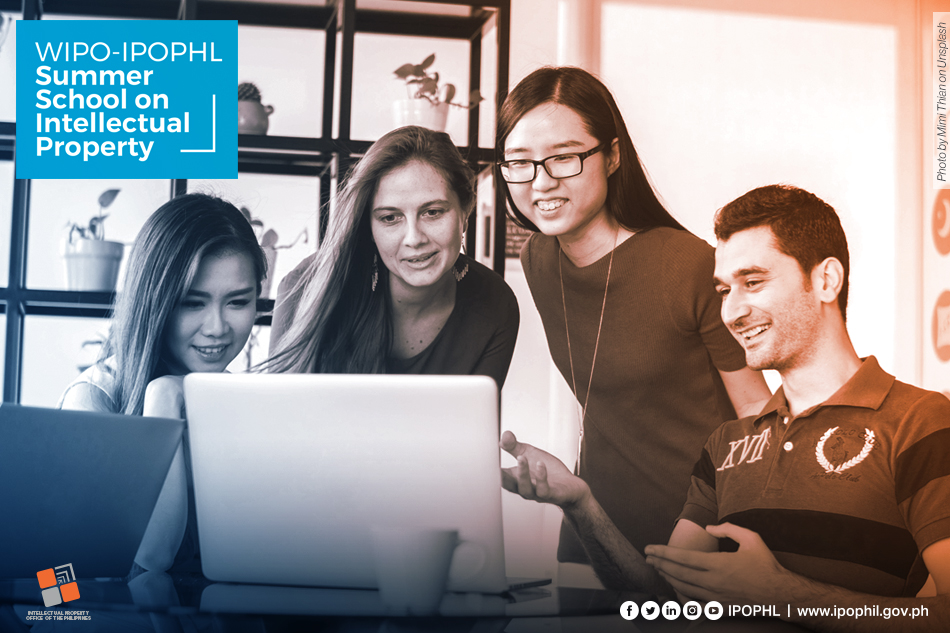 Five reasons to join the first ever WIPO-IPOPHL Summer School on Intellectual Property
The Intellectual Property Office of the Philippines (IPOPHL) is inviting interested participants to be part of the pioneer batch of the first ever Summer School on Intellectual Property co-organized by IPOPHL and the World Intellectual Property Organization (WIPO) that will be held in the Taguig, Philippines.
The two-week comprehensive learning program targets graduate and post-graduate students, and young professionals who are seeking to obtain a deeper understanding and appreciation of intellectual property (IP) directly from local and international IP experts.
If this piques your interest but you remain to think twice, consider these five useful gains you will surely obtain from undertaking the WIPO Summer School program:
Have a better appreciation of why IP matters to you
Although many have been said about the benefits of IP, only a few may be able to confidently enumerate the ways in which it directly and indirectly benefits a common person.
One of the program's primary objectives is for participants to understand every type of IP asset—marks, copyrights and related rights, patents and inventions, design, geographical indications and plant varieties—by way of holding holistic lectures and discussion.
In addition, the IP program will conduct simulation exercises and group and panel discussions on select IP topics in between talks so as to encourage interactive learning.
Learn how to build value to IP as a national catalyst for innovation and creativity
IP is a key tool that leads to economic, social, cultural and scientific development. It enhances the market value of a product or solution, transforms ideas into profit, helps innovators access finance for their inventions, enhances knowledge, and promotes culture.
IP achieves these by encouraging communities to foster innovation, which is a key factor in pushing the nation towards progress.
The essence of IP in achieving major developments is evident in the positive economic performance of countries and regions that place IP high in their agenda.
For one, several countries such as Switzerland, the Netherlands, Sweden, Singapore, the United States, Finland and Germany each recorded the high IP receipts and payments in 2017, according to the 2018 Global Innovation Index (GII). That these countries joined the 2018 GII's magic ten conveys the relationship between IP and innovation.
Cultivate a culture of respect for IP
An effective IP system is vital in creating an environment wherein individuals recognize the hard work put into the creations and inventions that they use and benefit from. Such culture gives innovators' confidence in the IP system, the efficacy of IP policies and the programs and projects through which authorities enforce the IP Code.
However, the task of cultivating such culture is not solely for government to carry out; IP owners should protect their economic and moral rights and should lead the fight while consumers are encouraged to be vigilant and also uphold their basic rights to be offered goods and services that would not inflict harm. In short, everyone of us have an essential role to play.
Have a comprehensive grasp of the international aspects of IP.
Among the areas to be tackled in the summer school program is the international landscapes of various areas which IP relates to, such as competition, public health, biodiversity, climate change, biotechnology, and food security, among others. Looming issues and challenges of implementing IP in these areas will also be discussed.
And if you think cross-border trade is meant to benefit solely the big players and the multinationals, the program sets out to reassess your views as it lays down a session on best IP management practices small and medium-sized enterprises can adapt when going global.
Be part of the pioneer batch of Philippine's first ever WIPO-IPOPHL Summer School on Intellectual Property
The WIPO Academy is the world's center of excellence for IP education and training. Their efforts are geared towards policy makers and regulators, inventors and creators, business managers and IP professionals, students and teachers of IP and civil society, particularly in developing countries, least-developed ones and countries in transition.
Meanwhile, the IPOPHL plays a crucial role in the nation's IP spectrum, that is, creation, registration, protection, utilization, commercialization and enforcement of intellectual property. It has at the top of its agenda an IP education and awareness drive that aims to make an impact even at the grassroots level.
Together, the WIPO Academy and the IPOPHL, through the summer school program, seek to take another positive step toward capacitating societies to leverage on IP. This, as a broad and comprehensive understanding of the system can help you fully take advantage of growth opportunities that may not be realized without IP.